What is the Hunter Rd, a, b Color Scale? Follow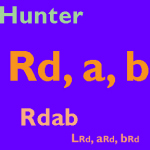 The Hunter Rdab opponent-color scale, developed in 1943, was an early version of the Hunter L, a, b scale.
Instead of L, Rd is used to designate lightness and is identical to the CIE Y Brightness/Luminosity value. Sometimes the Rd, a, b color scale is shown as LRd, aRd, bRd.In general, the Hunter Rd, a, b color scale has been replaced by either Hunter L, a, b or CIE L*, a*, b* in most applications with the exception of the Rd value being used as a single-value to quantify the overall brightness of reflectance neutral limestone-based products. In addition, bRd is sometimes used as a companion metric with Rd to quantify the slight yellowness associated with trace metal contamination (iron, copper) of limestone-based powders.
A limestone powder or pressed plaque of the best color quality is associated with a high Rd value and + bRd yellowness value close to 0.
For more information, search for AN1016 Hunter Rd, a, b Color Scale.