CQXT serial printer prints odd characters Follow
FAQ: "Printer passes self test but prints junk from APHA screen." or "Printer works but when you print to it from the CQXT, it hangs up."
There are 3 possible reasons for incorrect printing from a serial printer shipped with the ColorQuest XT:
The printer is incompatible with the version of CQXT firmware. This can occur if our current released serial printers is sold to an older CQXT. Original printer was a Citizen iDP-3110, then Citizen CT-S310, and now a Citizen CBM-910 Type 2. The workaround is to upgrade the firmware.
In the CQXT TouchScreen there is a hardware jumper that must be configured for DTR (Data Terminal Ready) rather than CTS (Clear To Send). This should have been set at the factory. The workaround is to return the TouchScreen to HunterLab to verify this, or work with the client over the telephone to make sure the settings are correct for the printer of choice.
Set DIP Switch Settings Correctly for 9600 Baud Rate
The correct printer for the CQXT is a Citizen CBM-910 Serial Printer and the most common reason for incorrect printing if the printer powers up and is printing something is the DIP switch settings.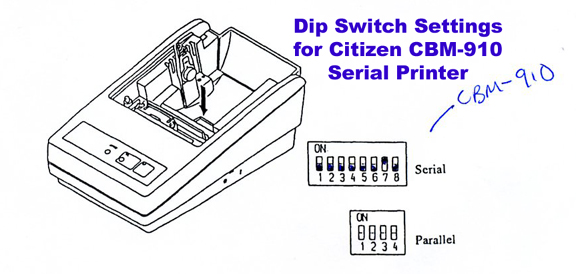 If present, take the paper roll out of the printer.
The 8-set serial switches are in the base of the paper roll area.
To set this printer to a 9600 baud rate, set switch 7 to High, and the rest to Low.