D02-1011-833 Adjustable Transmission Preform or Cylinder Holder, 15 mm to 40 mm diameter Follow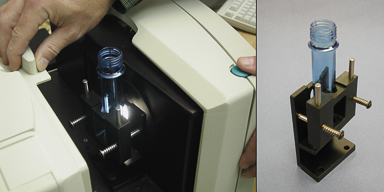 The adjustable transmittance preform holder will measure transparent preforms, cylinders or tubes with a shaft diameter from 15 mm to 40 mm. The length of the straight shaft above the preform threads should be at least 50 mm in order to completely cover the port. While this device can be used in TTRAN LAV or SAV modes, SAV Small Area of View is preferred as a 10 mm diameter sample area is viewed. This holder can be user-installed in the field without sensor modification.
Used on:
ColorQuest XT
ColorQuest XE
UltraScan PRO
UltraScan VIS
Measurement Method
Place the D02-1011-833 Adjustable Transmittance Preform Holder in the transmittance compartment.
Standardize on air in the TTRAN LAV or SAV (preferred) mode with the holder in place.
Read back air as a sample with L* = 100, a* = 0, b* = 0 expected.
Place the transparent preform in the holder.
For each measurement, average 3 readings with rotation between each reading.
The averaging of multiple readings with rotation is recommended to minimize measurement variation due to preform replacement between readings, as well as variation in the color uniformity and wall thickness of the preform or cylinder.
Any preform or cylinder higher than about 4 inches will stick up through the top of the transmittance compartment. If the preform sticks above the transmittance compartment, just draw the door close to the preform and take a measurement with the tube sticking out of the top. HunterLab sphere instruments have powerful pulsed xenon lamps, and measurements are not affected by ambient light.
Do you still need more information? Submit a ticket and our support team member will reach out to you soon!