EasyMatch QC+ER - hardware key driver will not install Follow
FAQ: "I get an error that the software key software couldn't finish loading. Can you tell me what's going on?"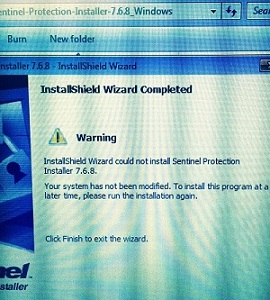 EasyMatch QC loads the current Sentinel driver for the hardware license key as part of the EasyMatch QC installation. You have activated the EasyMatch QC software installation program correctly but appear to be running into a conflict with the Sentinel driver.
The Sentinel driver installation appears to be running into a conflict during the EasyMatch QC installation, so let's try the easy way first by cleaning everything up and re-installing EasyMatch QC.
First, go to your Control Panel/Programs and uninstall your version of EasyMatch QC if present.

Then look lower in the program list and delete the Sentinel Protection Installer (hardware key driver) program.

If this does not resolve the issue, there are three further suggestions to resolve this issue:
A key element is that the person performing all software installations must have System Admin privileges to install software on the PC. I will assume that you have that privilege. If in doubt, discuss this with your IT Department.
On occasion, the IT Department implements a network or local PC policy in the operating system that locks down USB port or the ability to perform certain functions such as load software. Again, discuss this with your IT Department.
Another rare issue with EasyMatch QC Super Pro installation is a conflict in port selection with another program already on the PC. The symptom is that the hardware key driver begins to install then rolls back. The typical cause is that our EasyMatch QC software and another program are trying to share the same communications port and having difficulty.
You could try installing EasyMatch QC on a different computer, but here is a workaround to see if we can get everything in on this one.
Direct link to download updated Sentinel SuperPro driver from SafeNet for EasyMatch QC+ER hardware key
http://www.safenet-inc.com/support_and_downloads/Download_Drivers/Sentinel_Drivers
Go to the link above and download the latest version to a flash disk and carry it over to the PC.
Copy the Sentinel SuperPro hardware key driver into the Downloads folder on the PC where EasyMatch QC is to be installed.
Double click to run the driver installation program to load the Sentinel SuperPro driver.
If successful, run EasyMatch QC installation again which will find a current Sentinel SuperPro driver already installed and will not install a driver as part of the installation. The EasyMatch QC installation will continue as normal.
Keep going until you get the message: "EasyMatch QC has been successfully installed."
If you continue to have installation issues, swap out the PC with another (WIN XP or higher operating system) and try installing EasyMatch QC straight from the CD.
If you still continue to have issues with the hardware key driver installation, contact HunterLab at support@hunterlab.com.