Connect instrument to EZMQC.
In EZMQC, Go to Sensor --- Diagnostic --- Hardware Checks. Then "Sensor Diagnostic Test" dialog will pop out.
Click "Signal Level". Put the instrument white tile on the reflectance sample port. For CFEZ, make sure to use large view area port plate. De-select "Graphic Display" and "Raw Data Table"
Click on "Flash" button. Instrument will take a reflectance measurement and display data in the table form. Six items will be filled in the table for both the monitor and samples channels, including Max Counts, Min Counts, Average Counts, Maximum Pixel, Dark Count Max, and Dar Count Min.
Pay attention to the monitor and sample Max Counts' values. Max Counts are the peak values for the sample and monitor channel. With the instrument white tile, the Max Counts values should not below 15000, and are generally in the certain range for these instruments (Table-1). Also, the monitor channel value is typically within 80% -120% of the sample channel value. If the values of the sample and Monitor fall outside of these bounds, the instrument may not work properly.
Instrument

Sample

Monitor

Max Counts

Max Counts

CFEZ

15000-35000

15000-35000

MSEZ

20000-40000

20000-40000
Table-1: Max Counts values range on sample and monitor for CFEZ and MSEZ
 a) Main Table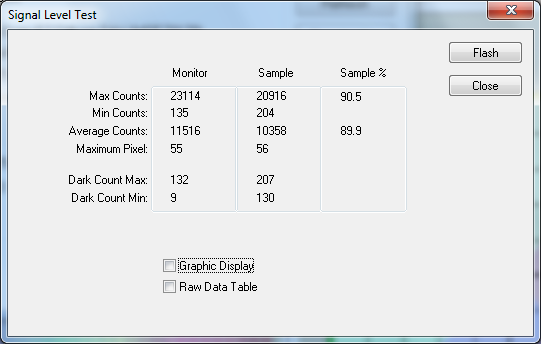 Following are the other 3 result views that you can check in this signal level test.
 b) Raw Data Table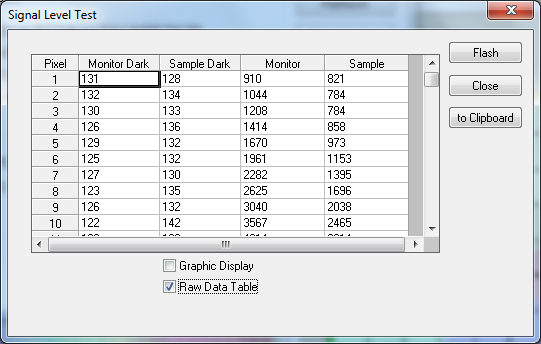 c) Graphic Display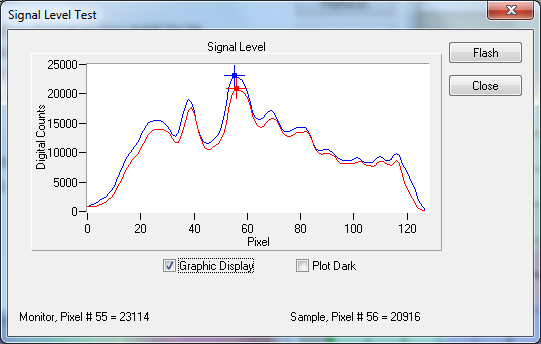 d) Graphic Display + Plot Dark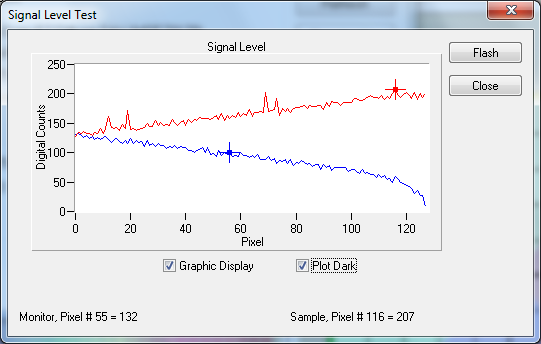 Note: If you have any question on the signal level test, please send all of these data and graphs to us. For the main table and all the graphs (views a, c, d), click the "Signal Level Test" dialog, press "Ctrl" + "Alt" + "Print Screen" buttons to copy each view, and then you can paste each view into a word document. For the raw data table (view b), click "To Clipboard" button to copy the data, and then paste it in to a word/excel document.