How do you calculate a dEcmc elliptical color difference? Follow
FAQ: "How do you calculate CMC because sometimes CMC is different of dE*?"
Based on dL*, da*, db* rectangular color differences, DE* or dE* is called a Total Color Difference. DE* is shaped like a ball or sphere centered around a target color.
A DECMC or dEcmc color difference is called an elliptical color difference is shaped like an American football centered around a target color with longest dimension along the L* axis.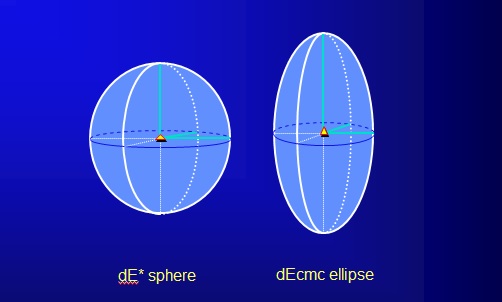 A good reference document is:
ASTM D2244-15e Standard Test Method for Calculation of Color Differences from Instrumentally Measured Color Coordinates
ASTM - American Society of Testing and Materials, West Conshohocken, PA USA www.astm.org
It covers:
Definition of CIE L, a, b* Opponent Color Space
Definition of dL, da, db* Color Difference Scales including delta E* Total Color Difference, delta Ecmc, delta Ecie94, delta E99 (DIN99) and delta Ecielab2000
Advice for measurement and reporting of Color Differences
Bias example of r and R in color differences between delta E* and delta Ecmc in directional 45/0 and Sphere geometries
Definition of Hunter L, a, b Opponent Color Difference Space
Definition of Hunter L, a, b and FMC-2 Color Difference Space
Worked examples of all color difference metrics including dE* and dEcmc and their components in Appendix A.
The worked examples are especially good for verifying color calculations and use 10 color difference pairs in different areas of color space.