DQNB Minimum Computer Requirements and Common Installation Errors Follow
DQNB is the Digital Qualification Notebook
Any personal computer system capable of running Windows 7 32+64 bit or Windows 8/8.1 or Windows 10 64 bit Professional, Business or Ultimate operating systems should be capable of operating our software without difficulty.
For specific Windows operating system compatibility please see our note here.
Here are some additional minimum requirements:
Processor – 1.0 gigahertz (GHz) or faster, 32-bit (x86) or 64-bit (x64) processor.
RAM – minimum of 4 gigabytes (GB) RAM and more are better. You should follow operating system guidelines for determining suitable RAM for your PC system.
Hard Drive – minimum 120 GB; 256 GB recommended.
AccessDatabase: 2010 32bit Microsoft Access DB Engine or later.
DVD/CD Drive – DVD/CD or CD Optical Drive required only if loading our software from the CD.
COM Ports – Multiple COM ports, including at least one available USB or Serial port for the sensor and one available USB port for our software hardware license key (please note as of EasyMatch QC V 4.88 the hardware license key is no longer necessary we use a soft license key file).
Network Card – 10/100 if connected to a network.
Printer - A hard copy printer for reporting data and diagnostic test results is useful but not required.
Do you still need more information? Submit a ticket and our support team member will reach out to you soon!
During DQNB installation, the following error might be prompted due to fail to install 32 bit Microsoft Database Engine 2016.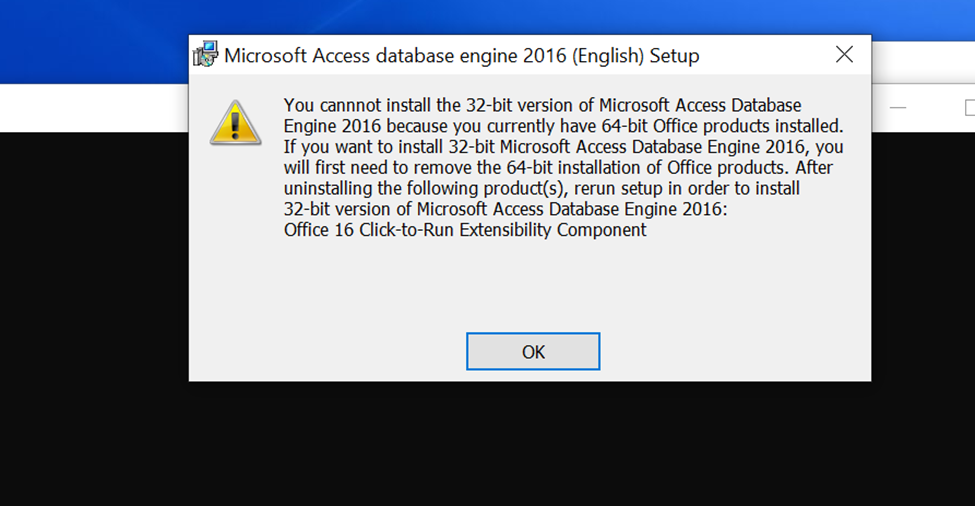 If you see this error, please click OK to ignore this error for now and continue to finish the installation. Once the installation is done successfully, please try to open DQNB client.
If you get the error below while try to open DQNB client, then please install one 32bit microsoft database engine manually. The one that we usually use is 32bit Microsoft database Engine 2010. You can download it through this link, Download Microsoft Access Database Engine 2010 Redistributable from Official Microsoft Download Center